2022 has been awesome in terms of reading. I've discovered new wonderful authors — indie and traditionally published — and enjoyed many great stories. Here is a list of books that have impressed me the most in the order in which I read them. I hope you'll find something you'll enjoy too!
All the images below include alt-text.
1. Those Left Behind — An Epic Space Opera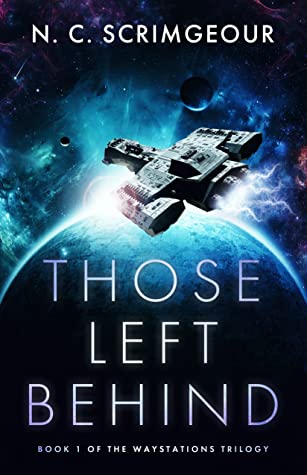 A dying planet. A desperate mission. A crew facing impossible odds. Humanity's last hope lies with them…
This book is described as an epic, galaxy-spanning space opera full of exploration, adventure, and ancient alien mysteries that fans of Mass Effect, The Expanse and Star Wars will love. It reflects my own impressions, and as a fan of The Expanse, I definitely felt that the book had a similar vibe while remaining fresh and unique.
I loved it! It has everything that accounts for a great space opera. There are fascinating alien species with unique capabilities, interplanetary tensions, contradictory interests and powers, mysterious alien artifacts and high stakes.
Multiple POVs work great for the story, and the characters are complex, real and fleshed out. The world is engrossing and immersive, the plot is exciting and captivating, unraveling more intricacies as it moves forward. It's written in a clear way that makes following along effortless.
You might enjoy the book if you like space operas with interstellar travel, interesting aliens, good character development and complex worlds.
You can read my review or get Those Left Behind on Amazon.
I also read the second book in the trilogy, Those Once Forgotten, and started reading the third one Those Who Resist recently. I recommend the whole series for space opera fans.
2. Azura Ghost (The Graven 2) — An Exciting Mind-Bending Space Opera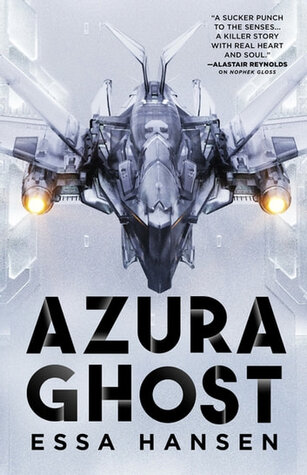 Azura Ghost is the second book in a series, so if you haven't read Nophek Gloss yet, start there — I highly recommend it!
One man and his sentient starship is all that stands between the multiverse and its total destruction.
If you are looking for a space opera that delivers on all the promises of the genre but is at the same time absolutely fresh and unique in palpable way, you've just found it. Beautifully sensory, inclusive and exciting, it has LGBTQ+ characters, characters with disabilities and an autistic protagonist written with respect and care. It's also epic and mind-bending, and it will take you on an adventure.
I loved Azura Ghost and had a lot of fun reading it. Even though I could barely focus, my brain was a constant chaos and I had very little free time, I kept coming back to it, looking for a much-needed escape between the pages.
You might enjoy the book if you liked Nophek Gloss, appreciate space operas, imaginative worlds, fast-paced action, metaphysics and don't mind some brutality and cruelty.
You can read my review or get the book at Amazon, Kobo, Barnes&Noble, Apple and other retailers.
3. Merchants Of Knowledge And Magic — A One Of A Kind Fantasy Adventure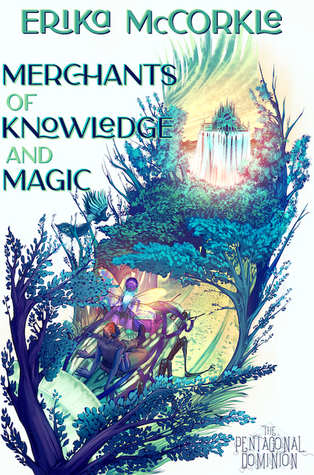 Priestess Calinthe trades in information, collecting valuable secrets for her demonic employer. But she has a secret of her own, making her a target for slavers.
I loved Merchants of Knowledge and Magic! Immersing in the fascinating magical world, meeting all the intriguing characters and creatures and hating the cunning villains was a real adventure. The book also broke my heart, and certain scenes disgusted me (which was intentional). There is a lot of darkness in the story, and it might be too brutal for some readers. It is, without a doubt, absolutely unique and unlike anything else.
You might enjoy Merchants of Knowledge and Magic if you like in-depth world-building and understanding how things work, original stories, adult content and don't mind violence, slavery, rape and abuse.
You can read my review or buy the book on Amazon.
Trigger / content warnings: slavery, abuse, rape — the subjects are presented as the atrocities they are, so if you're sensitive to them, proceed with caution.
4. Child Of The Moon — A Fun YA Fantasy Adventure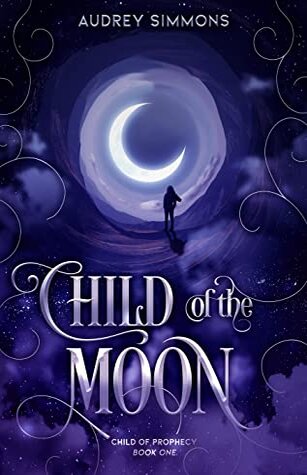 This is book one of the Child of Prophesy series that isn't completed at the time of posting this list.
At her birth, Neoma was dubbed the Child of Prophecy — a title with great and terrible ties to it. But she has no magic and the Anointing Ceremony is rapidly approaching.
I had lots of fun reading The Child Of The Moon! It had a smooth flow that made reading effortless, the characters were likeable and the events kept me invested and intrigued. It was a fast, easy and pleasant read. I was always drawn to the book when I had a moment and curious what would happen next.
You might enjoy the book if you like YA fantasy adventures with some classical tropes and are looking for an easy, entertaining read.
You can read my review or get the book on Amazon.
5. The Chasm (Finding Humanity #2) — Intense Ice Age YA Hopepunk Adventure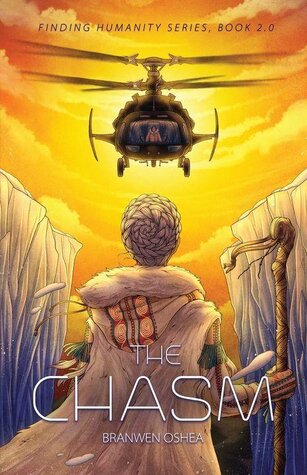 This is Book 2 of the Finding Humanity series, please start with The Calling if you haven't read it yet.
They thought their biggest problem was each other, but their new discovery threatens to pull them apart, limb by limb.
The book drew me in immediately and kept me on the edge of my seat the whole time! I couldn't put it down and sacrificed a lot of sleep, unable to stop reading. It was intense, fast-paced, full of dramatic action, brimming with tension and threats. The part where the characters go exploring new lands, looking for the Western Haven was so viscerally haunting that I couldn't fall asleep after finally putting the book down. The mysterious danger stalking the characters was palpable, making my skin crawl, and then there was a very intense action sequence with twists and turns during which I didn't know what would happen to the characters.
If you loved The Calling, I'm pretty sure you'll enjoy The Chasm too. If you haven't started the series yet, you might like it if you're into original YA adventures with a hopeful spin, post-apocalyptic stories and ice age settings. I find it difficult to classify the story, as it can be both sci-fi and fantasy, but the author herself calls it hopepunk, which I think is true :).
You can read my review or buy the book at Amazon, Barnes&Noble, Kobo and other retailers.
6. Child Of Etherclaw — An Exciting YA Cyberpunk Thriller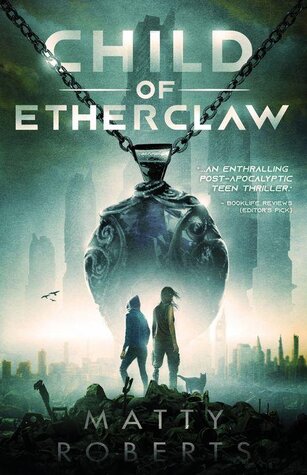 This is book 1 in an emerging series that hasn't been completed at the time of posting this list.
The bonds of family go well beyond blood. But can those bonds hold when the blood itself carries a devastating secret?
I loved Child of Etherclaw! It was very entertaining and easy to read. I kept coming back to the book and couldn't put it down even when it was time to go to sleep. I can't wait to see what's next in the series!
You might enjoy the book if you like YA sci-fi, cyberpunk / post-apocalyptic / dystopian settings, found family and mysterious artifacts.
You can read my review or get the book at Amazon, Barnes&Noble, Apple and other bookstores.
7. The Long Way To A Small, Angry Planet — A Cozy Space Opera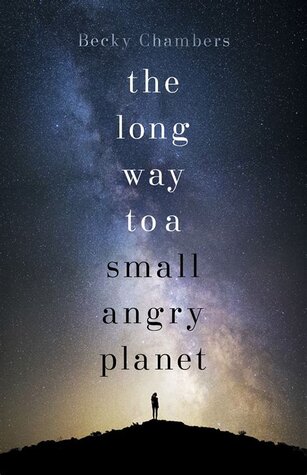 This is book 1 of the Wayfarers series, but it can be read as a standalone.
When Rosemary joins the crew of the Wayfarer, she isn't expecting much, but she isn't the only person on board with secrets to hide.
For the first two chapters, I was pretty bored. Then, I started getting more and more into the story, and soon I couldn't put the book down. I read it within a few days and I didn't want it to end. I laughed and I cried. I felt so many emotions. It was cozy like a warm blanket. It was wholesome and deep. It showed me perspectives I hadn't considered. It touched on an interesting subject of sentient AI rights, and the ways people would treat such entities. It was about friendship and found family, fascinating places and learning to truly, really accept those who are so different from us that they're impossible to comprehend.
In the end, I fell in love with the world that was just as real as the one behind my window. I loved the characters, and I felt a deep sense of satisfaction and gratitude after reading the book. I was sad that it ended, and I was happy that it was the beginning of a series.
It's slow-paced but delicious. Reading it feels like savoring a great desert with a unique, unusual taste and intriguing textures to discover. I bought and started reading the next book in the series the moment I finished it.You might enjoy The Long Way To A Small, Angry Planet if you don't mind slow pace without much action, love great, in-depth character development and unique world-building, are interested in profound connections and emotions and want to feel good and cozy while reading the book.
You can read my review or get The Long Way To A Small, Angry Planet at Kobo, Apple, Barnes&Noble, Amazon and other bookstores.
8. A Closed And Common Orbit — Kind, Character-Driven Sci-Fi With Cyberpunk Elements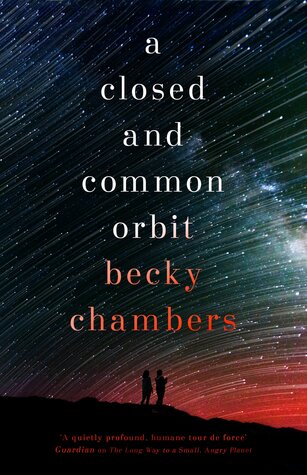 This is book 2 in the Wayfarers series. It's a standalone that shares a few characters with The Long Way To A Small, Angry Planet. It's better to read The Long Way... first, but I think the book will also make sense on its own.
Lovelace was once a ship's AI. Now, she has to start over in a synthetic body, in a world where her kind are illegal.
I loved the book and was deeply impressed by it. I have trouble categorizing Becky Chambers' work, and I don't know what subgenre it is. The part about Pepper's past falls into cyberpunk, but overall? Maybe sociological sci-fi that asks some tough questions but still leaves you feeling good and cozy? Maybe it doesn't need to be categorized at all.
You might enjoy the book if you like character-driven stories, in-depth character development, are interested in the idea of sentient AI and would like a unique and personal look at such entities. If you liked the first book, you'll probably like this one too. If you didn't, there is a chance this one will turn out different for you, but I don't promise anything :).
You can read my review or get A Closed And Common Orbit at Amazon, Kobo, Apple, Barnes&Noble and other bookstores.
9. The Protectorate Series — An Epic Space Opera Trilogy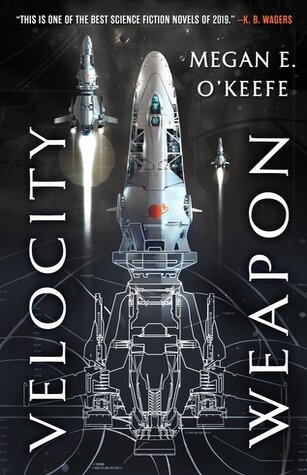 Yep, it's the whole trilogy, bacause why not? :D You can see the cover of the first novel in the series, Velocity Weapon above.
Dazzling space battles, intergalactic politics, and rogue AI collide in this epic space opera by award-winning author Megan O'Keefe.
I loved The Protectorate series! I noticed a few small imperfections, but the story was so exciting, the characters so interesting, the world so engrossing and the plot twists so unexpected and captivating that those didn't matter in the end.
You might enjoy The Protectorate if you like space operas, strong female and LGBTQ+ characters, plot twists and high stakes.
You can read my review or get the first book in the trilogy called Velocity Weapon at Kobo, Barnes&Noble, Apple, Amazon and other bookstores.
Bonus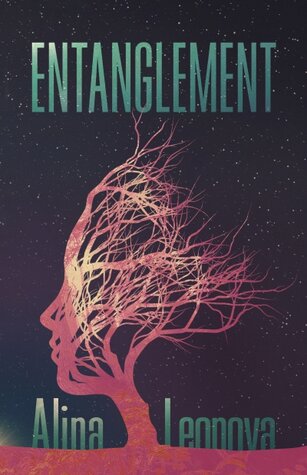 My debut dystopian sci-fi thriller Entanglement is free on Smashwords until January 1. And if you want to support me, you can buy it at Amazon, Kobo, Apple, Barnes&Noble or Gumroad.
No implant, no life. Cutting it out may have been a huge mistake, and their hunt for the truth can prove deadly.
Cay thinks he may be going insane. Trying to escape the bizarre mess his life has become, he cuts his very identity out of his palm and flees home, leaving everything he knows and loves behind.

Vietra was only trying to stop a murderer. Devastated by a cruel punishment she didn't deserve, she sets out on a dangerous journey to free herself, but a frightening darkness she discovers within threatens to push her over the edge.

When their fates intertwine in the criminal underworld, Cay and Vietra get a chance to unravel the mystery of what's happened to them. They must navigate a ruthless world of lifelike simulations and deadly plants that has been transformed by an inexplicable plague, but they can't imagine where this strange and perilous path will lead them.

Mind-bending, exciting and unpredictable according to the readers, this cyberpunk thriller will take you on a ride filled with plot twists, suspense and unexpected turns of events. 'You never really know what's coming in this one, and that's what makes it so much fun to read!' Joshua Grant
Featured image by brettwellington.