A dying planet. A desperate mission. A crew facing impossible odds.
Humanity's last hope lies with them…
Time is running out for the people of New Pallas. Nobody knows that better than Alvera Renata, a tenacious captain determined to scout past the stars with nothing but a handpicked crew and the promise she made: to find a new home for humanity.
But between navigating the dangers of dark space and playing first contact politics with a galactic civilisation already on the brink of war, Alvera soon realises keeping her word might not be as easy as she thought.
Her only hope may be the secrets of the ancient alien waystations scattered across the galaxy. The mysterious technology could be the key to humanity's survival—or bring the unwanted attention of the long-forgotten beings who built them.
But remaining united in the face of annihilation is a lot to ask from a crew already splintering under the weight of their differences. A jaded pilot wrestling with his family's blood-stained legacy looks for a place he can start over. A young translator desperate to leave her mark on the galaxy searches for meaning out in its lawless frontier. And Alvera reckons with the aftermath of betrayal as she fights for a way to save them all.
As they break apart to forge their own paths, Alvera and her crew all face the same question: what are they willing to sacrifice to save those left behind?
The cover below includes alt-text.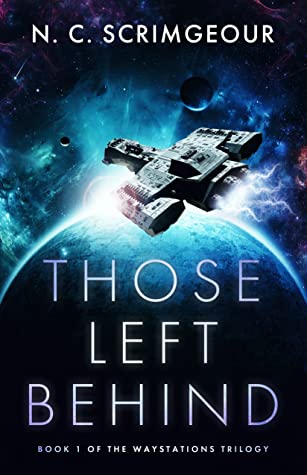 This book is described as an epic, galaxy-spanning space opera full of exploration, adventure, and ancient alien mysteries that fans of Mass Effect, The Expanse and Star Wars will love. It reflects my own impressions, and as a fan of The Expanse, I definitely felt that the book had a similar vibe while remaining fresh and unique.
Characters
There are five POV (point of view) characters in the book. I have to admit, when I saw their names in the chapter titles, I was worried that it could make the story hard to follow. I was wrong! N.C. Scrimgeour did a great job making sure that the characters are easy to distinguish, and the story flows naturally. If anything, the number of characters only added to the plot, driving it forward and allowing the reader to explore various planets and cultures. Three of the protagonists are human, and two are alien, which I always find fascinating.
This is very much a character-driven novel, where each of the protagonists has their unique motivations, personality and a compelling backstory.
You know how sometimes when you read a multiple POV book where each chapter is dedicated to a different character, you're a bit unhappy when a chapter ends? It takes some time to adjust to the next character, and maybe you like following some of them more than others? Those Left Behind was a rare example when that didn't happen! I was equally excited to read about each character's adventures, while every chapter uncovered a bit more about the world and the beings populating it.
I often have trouble remembering names, but N.C. Scrimgeour made it really easy to distinguish between the characters by placing them in unique contexts that made it immediately apparent who was who. Each of them felt like a real person.
Plot
The plot is clear, easy to follow and engaging. It's a fast-paced story with lots of exciting action that unravels more layers of complexity as it progresses.
World-building
The world in Those Left Behind is fascinating to explore, and I enjoyed this aspect of the novel a lot! The events take place on multiple planets and deal with different alien species. We also get a glimpse of a cyberpunk human world that the main characters leave behind.
I loved the complexity of the universe and the diplomatic relationships between various species of aliens and humans. It's a nuanced world with various tensions within each group, different kinds of inequalities and challenges arising from the unique traits of the alien species, history and the present circumstances.
I absolutely love the trope of alien artifacts left behind by previous civilizations, so I very much enjoyed their presence in the book. Their secrets are yet to be uncovered later in the series, but what I've learned so far is enough to excite and assure me that there is an epic and compelling story behind them.
Impressions
I loved the book and can't wait to continue with the series! It has everything that accounts for a great space opera. There are fascinating alien species with unique capabilities, interplanetary tensions, contradictory interests and powers, mysterious alien artifacts and high stakes.
Multiple POVs work great for the story, and the characters are complex, real and fleshed out. The world is engrossing and immersive, the plot is exciting and captivating, unraveling more intricacies as it moves forward. It's written in a clear way that makes following along effortless.
You might enjoy the book if you like space operas with interstellar travel, interesting aliens, good character development and complex worlds.
You can get Those Left Behind on Amazon.
Check out my interview with the author!
The author
N. C. Scrimgeour is a science fiction and fantasy author whose books focus on character-driven stories in vibrant worlds, from folklore fantasy to space opera.

After completing her Masters in English Literature, she went on to work in journalism and marketing and communications while pursuing her passion in writing.

When she's not working on her books, she enjoys playing story-driven RPGs, watching and reading all things science fiction and fantasy, and getting outdoors with the dog for a good walk!
Check out her website, Twitter, Facebook, Instagram or Goodreads.