They thought the biggest problem they faced was each other.
After Bleu, Rana, and their new friends narrowly prevent war between the star beings and humans, they hope the upcoming negotiation will secure the peace. Newly emerged from their subterranean haven, the Northern Haven humans are clearly not suited to Earth's ice age, and require assistance from the enlightened star beings to survive long term on the Surface. But Commander Savas doesn't trust the suspiciously kind star beings and their unexplainable abilities. When both sides reluctantly negotiate a joint mission to find the other Havens, Bleu must somehow cooperate with the manipulative commander to keep his friends safe.

As their team confronts unexpected dangers, Bleu and his teammates begin to suspect the star beings don't know as much about the Surface as they claimed, while Rana is torn between remaining true to her nonviolent ways or becoming more human to survive. When an unnatural predator attacks, even the nearly all-knowing Kalakanya can't explain it. Now the team must pull together or their new discovery will pull them apart, limb by limb.
The cover below includes alt-text.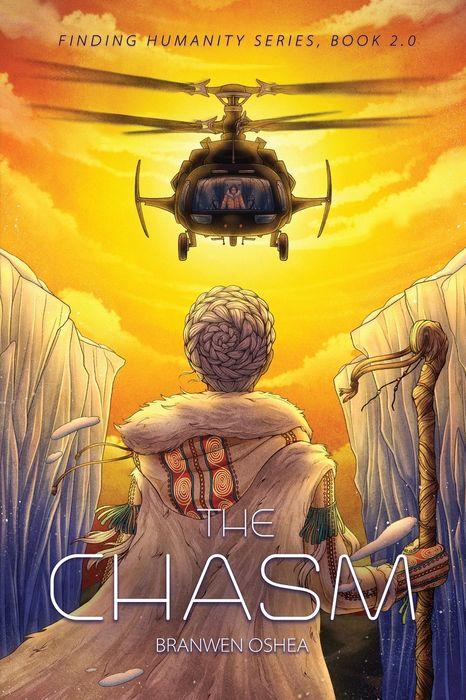 This is Book 2 of the Finding Humanity series, please start with The Calling if you haven't read it yet.
The book drew me in immediately and kept me on the edge of my seat the whole time! I couldn't put it down and sacrificed a lot of sleep, unable to stop reading. It was intense, fast-paced, full of dramatic action, brimming with tension and threats. The part where the characters go exploring new lands, looking for the Western Haven was so viscerally haunting that I couldn't fall asleep after finally putting the book down. The mysterious danger stalking the characters was palpable, making my skin crawl, and then there was a very intense action sequence with twists and turns during which I didn't know what would happen to the characters.
We get to know the characters we've met in the first book better. The Chasm allows us a glimpse into Savas's past partially explaining his behavior and motivations. I hated him in The Calling, but I started feeling sorry for him now. We also get a deeper understanding of Kalakanya's powers, and how much they burden her. Some characters get to grow and change, all of them undergo their own inner turmoil, and there is romance to spice up the already exciting adventure.
And, of course, there is a new terrifying danger, unlike anything either star beings or humans could have imagined. If you've read The Cords That Bind — a novella the events of which happen between The Calling and The Chasm, you've already had a glimpse of it. I've actually guessed the nature of this power after reading it (at least as much as is revealed in this book because it remains pretty mysterious).
The book ends on a cliffhanger, but it feels like a good place to end it and get a breather before the third part. I can't wait to find out what happens next!
If you loved The Calling, I'm pretty sure you'll enjoy The Chasm too. If you haven't started the series yet, you might like it if you're into original YA adventures with a hopeful spin, post-apocalyptic stories and ice age settings. I find it difficult to classify the story, as it can be both sci-fi and fantasy, but the author herself calls it hope punk, which I think is true :).
You can buy the book at Amazon, Barnes&Noble, Kobo and other retailers.
The author
As a young girl, Branwen wanted to become an ambassador for aliens. Since the aliens never hired her, she now writes about them.
Branwen OShea has a Bachelors in Biology from Colgate University, a Bachelors in Psychology, and a Masters in Social Work. She lives in Connecticut with her family and a menagerie of pets, and enjoys hiking, meditating, and star-gazing. Her previously published works include contributing to a nonfiction yoga book, wellness magazines, and her published science fiction novella, Silence of the Song Trees.
Check out her website, Twitter, Facebook, Instagram and Goodreads.
Featured image by Brigitte Werner.