They were a memory once forgotten. For millennia, they waited. Now, they are coming.
The galaxy has been plunged into chaos, left reeling from the trap Alvera Renata triggered around the ancient alien waystations.
As the leaders of the allied systems desperately try to prepare for what might be coming, Ridley and Kojan go on the hunt in search of answers. But the one person who might hold the key—the rogue starship captain who started it all—is missing in action, and her old friends aren't the only ones looking for her…
Meanwhile, tensions between the Coalition and the Idran-Var are at breaking point in the aftermath of a brutal attack. The only hope for peace may lie in a fragile alliance between Rivus and Niole, old enemies thrown unwillingly onto the same side. But even if they can bury their past, what will it take to overcome the centuries of bloodshed dividing their people?
As the mysterious signal coming from the waystations counts down, only one thing is for certain: something is coming, and if the fractured factions of the galaxy can't find a way to stand against it together, it may be the end for them all.
Those Once Forgotten is the thrilling sequel to space opera adventure Those Left Behind, and the second book in The Waystations Trilogy. Fans of Mass Effect, The Expanse and Star Wars will love this character-driven science fiction novel filled with space exploration, alien mysteries, and a galaxy at war.
The cover below includes alt-text.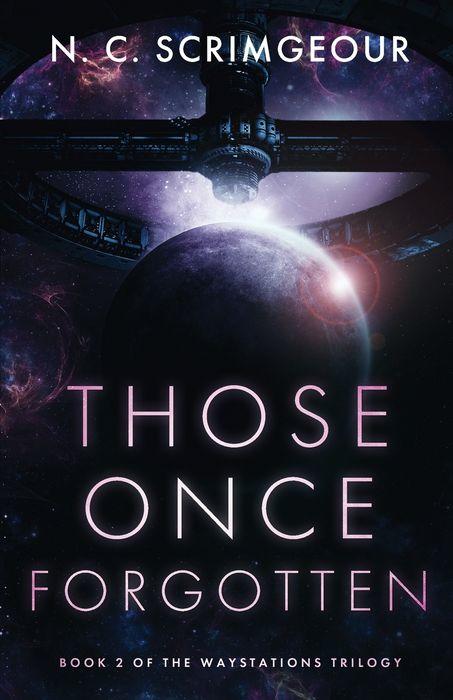 If you are looking for an epic space opera, you've just found it! Please check out Those Left Behind first if you haven't yet — that's book 1 of the trilogy where the story begins.
I've been waiting to get my hands on this book since I finished the first one. It didn't disappoint! The sequel still has all the ingredients of a great space opera and manages to become even more intense than the first book. Everything only grows in scope as the reader uncovers the secrets behind the waystations, the stakes rise even higher, the tension soars, and the characters are pushed to their limits.
This continues to be a character-driven story, with everyone pursuing their goals. Some of the characters undergo considerable growth, some are forced into roles they aren't ready for, and everyone has to make difficult decisions and deal with their consequences. There is also drama, heartbreak, true friendship, twists, turns and high sexual tension along with angst between a couple of characters making it an even more exciting read.
If you loved the first book, Those Once Forgotten will fulfill all the delicious promises it made. If you haven't started the trilogy yet, you might enjoy it if you are into epic space operas, complex characters, interesting aliens, mysterious artifacts, intricate worlds and exciting adventures.
I had lots of fun reading it and can't wait for the final book!
You can get Those Once Forgotten at Amazon, Barnes&Noble, Waterstones, Book Depository and other retailers.
Check out my interview with the author.
The author
N. C. Scrimgeour is a science fiction and fantasy author whose books focus on character-driven stories in vibrant worlds, from folklore fantasy to space opera.

After completing her Masters in English Literature, she went on to work in journalism and marketing and communications while pursuing her passion in writing.

When she's not working on her books, she enjoys playing story-driven RPGs, watching and reading all things science fiction and fantasy, and getting outdoors with the dog for a good walk!
Check out her website, Twitter, Facebook, Instagram or Goodreads.
Featured image by Thomas Budach.