One man and his sentient starship is all that stands between the multiverse and its total destruction in the second book of Essa Hansen's brilliant, mind-bending space opera trilogy perfect for fans of The Expanse and A Long Way to a Small Angry Planet.

Caiden has been on the run for ten years in order to keep his Graven ship out of the hands of his old adversary, Threi. But when a childhood friend he once thought dead reappears to take it, he is lured into a game of hunter and hunted with the one person whose powers rival Threi's; his sister, Abriss.

Now to have a fighting chance against the most influential siblings in the multiverse, Caiden is left with no choice. He must unlock the Azura's true potential—which means finally confronting his own mysterious genetic origins.
The image below includes alt-text.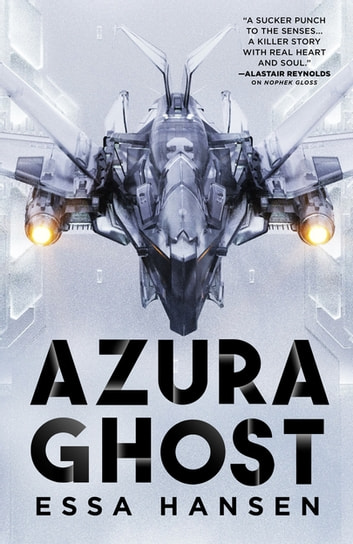 Azura Ghost is the second book in a series, so if you haven't read Nophek Gloss yet, start there — I highly recommend it! And don't read this review, it will spoil some of the things from the first book for you ;).
Characters
The story continues ten years after the last events in Nophek Gloss. We follow the adventures of two point of view characters — Caiden and Leta.
Caiden has changed a lot, which is unsurprising after ten years of harsh life on the run. He's become rougher, more mature, less idealistic. And yet, the kindness and strive for justice are still alive in him, as well as the love for his found family. The crew of misfits I came to love are present in Azura Ghost, but they only play secondary roles here.
I was looking forward to Leta's POV, and I enjoyed it as much as I anticipated. She is a complex character whose views and values have been shaped by the charismatic and ambitious Abriss Cetre. It's impossible to untangle the true feelings of those around her from the impact of her Graven gravitas, and her relationship with her Graves (I won't even explain, you'll find out who they are while reading) including Leta is interesting, ambiguous and morally questionable. Just the way I like it!
Leta has her own found family, and their tenderness and care for each other was a pleasure to read about. I'm pretty sure Leta is autistic even though the word never appears in the book — and why would it in an imaginary sci-fi world? The differences of her brain are portrayed with empathy, honesty and what seems to me (not an autistic person) like deep intimate understanding.
Leta's character arc is very compelling. She has to make some very difficult choices and deal with deep trauma. I loved the combination of strength and vulnerability, her bravery and kindness, her blindness to the faults of those she loves and courage to stay true to herself. She felt real to the point of being tangible.
Plot
Azura Ghost is fast-paced, full of action and unexpected twists. I had a feeling there were fewer peaceful moments than in Nophek Gloss, or maybe they were just shorter. It's an intense read with an exciting plot where trouble keeps coming while the reader discovers more previously hidden facts about the world and characters.
World-building
The world-building is original, fresh and absolutely fascinating, just like it was in the first book. We dive deeply into the notion of luminiferity, get a better understanding of the Graven and keep meeting strange and exciting aliens as well as intriguing technology that is more similar to magic (you know the quote I could have used here ;). Essa Hansen's wonderful imagination keeps shining brightly in this one.
It's an inclusive book with LGBTQ+ characters and characters with disabilities portrayed in a respectful way — that hasn't changed since book 1.
Impressions
I was a bit confused by all the new characters in the beginning and kept mixing some of their names until the very end. At first, it was hard to figure out what was going on. However, it might have been caused more by my mental state than anything objective. Either way, I got invested in the book after a short while and enjoyed it a lot. I think I loved the first one a bit more, but maybe it's because it was the first time I encountered this fascinating world and characters. My mental condition likely has played a role too.
I loved Azura Ghost and had a lot of fun reading it. Even though I could barely focus, my brain was a constant chaos and I had very little free time, I kept coming back to it, looking for a much-needed escape between the pages. There is a lot to think about, but I'm not capable of deep analysis at the moment, so I'll leave it to other readers.
I'm already looking forward to the third book in The Graven series, as well as anything else Essa Hansen will write.
You might enjoy the book if you liked Nophek Gloss, appreciate space operas, imaginative worlds, fast-paced action, metaphysics and don't mind some brutality and cruelty.
You can get the book at Amazon, Kobo, Barnes&Noble, Apple and other retailers.
Check out my interview with Essa Hansen that we did after I read Nophek Gloss.
The author
Essa Hansen grew up in beautifully wild areas of California, from the coastal foothills to the Sierra Nevada mountains around Yosemite, before migrating north to the Canadian Rocky Mountains. She has ranched bison and sheep, trained horses, practiced Japanese swordsmanship and archery, and is a licensed falconer. She works for Skywalker Sound as a sound designer for science fiction and fantasy feature films such as Big Hero 6, Doctor Strange, Avengers: Endgame, and Pixar's Onward. Essa lives with her British Shorthair cat Soki in the San Francisco Bay Area.
Check out her website, Twitter and Goodreads page.