This is the final book of the trilogy, please start with The Fifth Season if you haven't read it yet.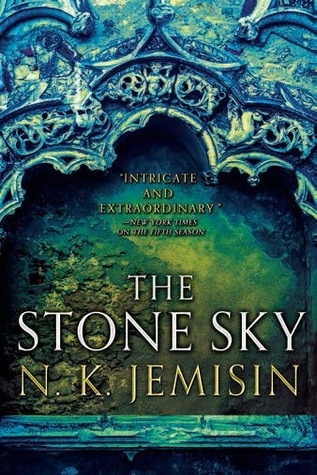 So, this is how it ends. The trilogy left me with a heavy feeling, as if it was made of stone itself, and it's hard to gather my thoughts, but I'll try.
A large chunk of the story is set in the ancient past where we finally get a full background of the Stone Eaters and orogenes. I wanted to say this was not what I expected, but the truth is, I didn't expect anything. Stone Eaters were such an original mystery that I just patiently waited for them to be explained. These parts read like biopunk, which I really enjoyed. They were also kind of introspective, told from Hoa's perspective. And will you be surprised if I say that the recurring themes of oppression, exploitation, dehumanization and a resulting anger/hatred were explored here as well?
The rest of the book is divided equally between Essun and Nassun on their journeys. They have contradictory goals, they've both grown extremely powerful, and of course, they are both suffering in their own ways. It's up to one of them to decide the fate of the world, and it's unclear who will have her way until the very end.
There is actually some hope in the ending. It is tragic (the author makes sure that any possible outcome would be tragic in one way or another), but there is love and maybe a chance for a change there. I'm skeptical about how this change is supposed to happen, but who knows.
I also hoped to learn more about the guardians. I guessed from the chapters about the past how they came to be, but it was never said directly, and I'm not sure I'm right.
All in all, I enjoyed the book, and it was a page-turner like The Fifth Season.
The originality of the whole trilogy is just outstanding. I admire N.K. Jemisin's creativity. It's writers like her who redefine genres and inspire others to follow in their steps. The mix of dystopia, fantasy with creatures you've never seen before, sci-fi / biopunk is like nothing I've ever read.
It's also really impressive how N.K. Jemisin manages to raise all these real issues (I've mentioned them before: oppression, being rejected for who you are by the society and your own family, etc.), also throwing in the relationship between humans and the planet without mentioning anything that would remind you of this world. She just makes you see what it's like in an absolutely fictional setting and lets you draw your own conclusions. All that, together with the characters' constant private struggles made it a really intense trilogy that caused what I now know is called 'book hangover'. Even though it's one of my favorite works of fiction, I was a bit relieved when it ended because everyone just suffered too much and deserved a break. I will definitely read other N.K. Jemisin's books, but I need time to recover first.