"As a heartless killing machine, I was a complete failure."

In a corporate-dominated space-faring future, planetary missions must be approved and supplied by the Company. For their own safety, exploratory teams are accompanied by Company-supplied security androids. But in a society where contracts are awarded to the lowest bidder, safety isn't a primary concern.

On a distant planet, a team of scientists is conducting surface tests, shadowed by their Company-supplied 'droid--a self-aware SecUnit that has hacked its own governor module and refers to itself (though never out loud) as "Murderbot." Scornful of humans, Murderbot wants is to be left alone long enough to figure out who it is, but when a neighboring mission goes dark, it's up to the scientists and Murderbot to get to the truth.
The book cover below includes alt-text.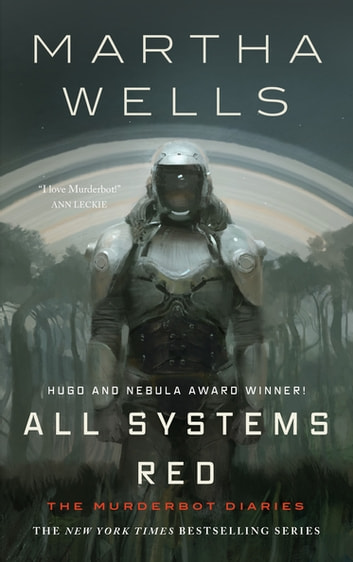 Let me explain myself. The Murderbot Diaries is a series, and I've read the first three novellas (there are more). Both because I read them a while ago and don't remember the details to describe each book separately, and because they seem really similar to me, I've decided to write a review covering all three at the same time. The book cover above is the first novella in the series — All Systems Red.
Characters
The main character is, naturally, Murderbot. That's what it calls itself — and it's an it because it has no gender. It's an interesting character: antisocial, snarky and sarcastic; always wants to be left alone but feels a strong sense of duty towards the people it's tasked with protecting, therefore getting itself in all sorts of trouble; loves watching serials and finds great comfort in them. Its point of view was entertaining and sometimes heartbreaking. It's a fairly lovable character.
In the second novella, there is an AI character that is quite interesting too, and the dynamic between Murderbot and the AI is amusing.
Each book features groups of people that Murderbot works with. After reading three novellas, not a single person stood out to me. One of the reasons is because Murderbot doesn't understand humans and isn't particularly interested in them. It's also incapable of determining their age, so their descriptions, when there were any, were vague.
Another reason is probably the length of the novellas — there is simply no time to get to know the characters intimately. We don't know their backstories, quirks, personalities. There is nothing to hold on to. They are there, but they feel like empty vessels.
Because of that all the human characters seemed bland, and I couldn't distinguish between them. They were often called by their surnames, which made it even harder to remember who was who. Most of the time, I didn't even know what gender the character in question was, and the only way I could imagine them was as something vaguely human-shaped. I'm not the kind of reader who needs vivid descriptions, and I'm usually fine with the bare minimum, but without knowing anything about their personalities, it was too little even for me. Maybe that was the intention because that's how Murderbot sees them. For me, they were plot devices — only there to give Murderbot some work to do and someone to protect.
Plot
The plot seemed to repeat from book to book. I felt like it was the same story told in different settings with slightly different characters. The stories themselves were fairly captivating, and I enjoyed them, but by the end of the third one I lost interest in what would happen next.
World-building
These are novellas, so there is no space for more than basic world-building. It made sense and was enough to make the world feel real.
Impressions
I thought I would like Murderbot more. Don't get me wrong, I liked it enough and had fun reading it, but something was lacking. I think that novellas are just not for me — I love longer novels that allow for more character depth and more intricate world-building. For me, a novella could work as a standalone or an introduction to a series, but a whole series consisting of them got tiring pretty quickly.
The repetitiveness of the stories made me less interested too. By the third one, it felt like I knew the structure, so it was less exciting.
Character development is one of the most important things for me as a reader. Murderbot alone, as interesting and fleshed out as it was, wasn't enough to keep me reading longer without any other characters to root for. I also think I missed some growth, a character arc to watch. Murderbot seemed the same all the time, it didn't feel like I was getting to know it more intimately after finishing the first book, and it's definitely a character with some depth, so the potential was there.
The price was also a factor when I decided to stop reading the series — each short novella cost almost $12 as an ebook on Amazon at the time, and to be fair, that's more than most full-length novels cost. Reading the whole series would be pretty expensive. I would do it anyway if I were more invested in it, but I just wasn't. I went in thinking those were novels (my bad, didn't check), so I was pretty disappointed to see how short they were.
There is some humor in the stories, provided by Murderbot's sarcastic commentary, which I enjoyed.
You might enjoy Murderbot if you like novellas, anti-social and snarky characters and having a bot as the main character.
You can get the series at Barnes&Noble, Kobo, Amazon, Apple and other bookstores.
The author
Martha Wells has been an SF/F writer since her first fantasy novel was published in 1993, and her work includes The Books of the Raksura series, The Death of the Necromancer, the Fall of Ile-Rien trilogy, The Murderbot Diaries series, media tie-in fiction for Star Wars, Stargate: Atlantis, and Magic: the Gathering, as well as short fiction, YA novels, and non-fiction. She has won Nebula Awards, Hugo Awards, and Locus Awards, and her work has appeared on the Philip K. Dick Award ballot, the BSFA Award ballot, the USA Today Bestseller List, and the New York Times Bestseller List. She is a member of the Texas Literary Hall of Fame, and her books have been published in twenty-two languages.
Check out her website, Twitter, LibraryThing and Goodreads.