When a freak technological failure halts traffic to and from the planet Gora, three strangers are thrown together unexpectedly, with seemingly nothing to do but wait.
Pei is a cargo runner at a personal crossroads, torn between her duty to her people, and her duty to herself.
Roveg is an exiled artist, with a deeply urgent, and longed for, family appointment to keep. Speaker has never been far from her twin but now must endure the unendurable: separation.
Under the care of Ouloo, an enterprising alien, and Tupo, her occasionally helpful child, the trio are compelled to confront where they've been, where they might go, and what they might be to one another.
Together they will discover that even in the vastness of space, they're not alone.
The book cover below includes alt-text.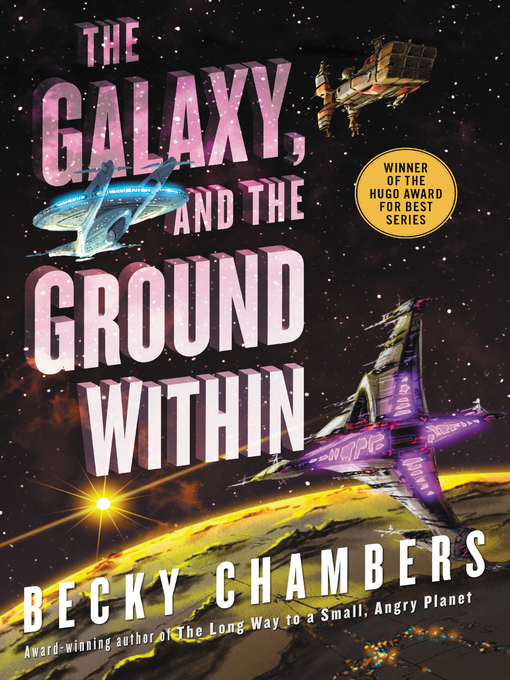 This is book 4 in the Wayfarers series. There is a character we met in The Long Way to a Small, Angry Planet, but it can be read as a standalone like the other Wayfarers books.
Characters
All the characters in this book are aliens of different species. We meet Pei — Ashby's girlfriend — and look at their relationship through her eyes, as well as get a different perspective on certain aspects of Aeluon culture. There is also a Quelin and an Akarak — both species were unpleasant in The Long Way, so it was interesting to get to know them more intimately and look at their cultures in a new context. And Laru is a species I believe we haven't met before.
Character development is wonderful as always. Everyone is different and unique; the peculiarities of their bodies and lifestyles, the impact of their societies and historical events on their personalities, behaviors and choices are depicted with care and depth typical of Becky Chambers.
Plot
Again, typically of Becky Chambers, there is not much plot. A few very different aliens get stranded on a planet together. There is one incident that requires their cooperation, but mostly they just hang out, talk, argue, get to know each other, and grapple with their own inner struggles.
World-building
Even though the characters spend most of the time on one planet, they discuss various issues, and we get to know their cultures as well as the intricacies of diplomatic relationships and historical events through their conversations and personal struggles. We discover injustices that most people are unaware of. We examine biases, authritarian government, exile, societal pressure and colonialism. There is a lot of food for thought in this book, and all of it can be applied to the modern world. The setting itself is wonderfully detailed and thoughtful as well.
Impressions
I loved the book. Even though The Long Way remains my favorite in the series, and A Closed And Common Orbit is a close second, this one brought me a lot of joy and hit me in the feels just like the other two.
I love Becky Chambers's style and want to read more of her books in the future.
You might enjoy the book if you like character-driven, cozy stories without much action and / or other Becky Chambers's books.
You can get the book at Amazon, Kobo, Apple, Barnes&Noble and other bookstores.
The author
Becky Chambers is a science fiction author based in Northern California, best known for her Hugo Award-winning Wayfarers series. Her varied works have also been nominated for the Nebula Award, the Locus Award, the Arthur C. Clarke Award, and the Women's Prize for Fiction, among others. Her latest book is the upcoming novella A Prayer for the Crown-Shy (July 2022), the second of her Monk and Robot series.
Becky has a background in performing arts, and grew up in a family heavily involved in space science. She spends her free time playing video games, tabletop RPGs, and looking through her telescope. Having hopped around the world a bit, she's now back in her home state, where she lives with her wife. She hopes to see Earth from orbit one day.
Check out her website or Facebook. I didn't find any other social media :(
Featured image made by AI called DALL·E 2.