This review covers the Great Cities duology, consisting of The City We Became and The World We Make by N.K. Jemisin. The book cover and the blurb below are from the first book in the series. Alt-text included.
Blurb
Five New Yorkers must come together in order to defend their city.
Every city has a soul. Some are as ancient as myths, and others are as new and destructive as children. New York City? She's got five.
But every city also has a dark side. A roiling, ancient evil stirs beneath the earth, threatening to destroy the city and her five protectors unless they can come together and stop it once and for all.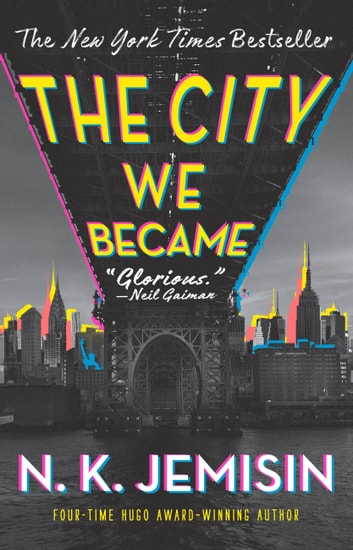 Characters
Most of the significant characters are people of color, including a homeless man, a Native American woman, and an Indian immigrant. Many of the characters are also LGBTQ+, including a trans secondary character. The characters are wonderfully fleshed out and feel real. Sometimes funny, sometimes tragic, sometimes annoying, sometimes confused, sometimes arrogant, they feel human, and, at the same time, they are more than that. They represent the boroughs of New York, and other cities around the world, and they have unusual powers.
Themes
The book engages with a lot of political themes, like racism, sexism, homophobia, transphobia, white supremacy, bigotry, and violence motivated by it.
Thoughts
N.K. Jemisin is a legend. Her Broken Earth trilogy starting with The Fifth Season made a huge impression on me with its impeccable world-building, compelling characters, and, of course, the excellent narrative structure. Naturally, I was excited to read another series by her.
I did enjoy Great Cities. However, for me it fell short compared to Broken Earth.
I think N.K. Jemisin mentioned somewhere that world-building Great Cities was even more difficult and time-consuming than Broken Earth. In the latter, she had to build the whole world from scratch. In the former, she had lots of research to do in order to make sure she got everything right, because the story takes place in the real world, on real streets, and represents real people. I appreciate that, and it was beautifully done.
However, I think it left little space to really think through the magic system or the nature of the powers the city avatars acquire. It remains hazy and relies on their intuition until the very end. It's not necessarily a flaw, because the story is more abstract in general, but that led to a plot device that got repetitive pretty quickly. One of the avatars or the whole city is in danger. They don't know what to do because they don't understand the nature of their powers. However, in the most dangerous last moment, they suddenly get a bout of inspiration and figure something out that activates their city power and effectively defeats the enemy. That kind of removed some of the urgency from the story, because every time something dangerous happened, I knew exactly what to expect.
The author also used a solution for the final confrontation in the first book that was maybe not exactly deus ex machina, but felt close. I'll be vague so I don't completely spoil it, but please skip the rest of this paragraph if you want to avoid any spoilers. All the New York avatars need to come together for their plan to work. However, one of them has been corrupted by the enemy. The situation is hopeless, but then someone else suddenly becomes an avatar, and something that isn't New York becomes a part of it, and the problem is magically solved.
Nevertheless, I was hooked by the first book, and it ended in a satisfying enough way, promising an exciting sequel. The second one started with tension. The enemy was still strong and attacking on different fronts. Multiple threads of the story intertwined, teasing with a rewarding resolution. There was a lot to discover. But it felt rushed. Which, I think, it was, because the series was originally planned as a trilogy. N.K. Jemisin changed her mind, influenced by the real-life events, some of them mirroring too closely what she was writing about. I empathize with her and understand her decision to cut the series short. However, in my opinion, it suffered from this approach.
The second book very much felt like it was cramming the story that was supposed to be developed over two books into one. Some things remained unresolved, unexplained and unexplored. For instance, Manny's family and the ultimatum he was given and took to save New York — it felt like a major plot point that went nowhere. And the final resolution of the conflict kind of... just happened. It wasn't satisfying, it didn't explain much, and it felt like the author just wanted to finish the book but wasn't sure how to do it, so she came up with some sort of an ending that kind of worked but didn't really make much sense. I'm thinking about the perfect ending of the Broken Earth trilogy, how emotional and rewarding it was, and how elegantly it brought all the pieces together. I know what N.K. Jemisin is capable of. This wasn't it, or even close to it, and as a result, I liked The World We Make less than The City We Became and felt somewhat disappointed by the series because it didn't deliver on its exciting promise.
I really loved the premise and the concept behind the book. It felt so original, fresh and fun! It explored a lot of real-life problems, too, and played with some mind-bending concepts. I think it's worth reading just for the originality of it.
You might enjoy the book, if you like original urban fantasy with a diverse cast of often sassy characters that plays with and subverts Lovecraftian horror while delving into real-life issues and inequalities.
You can get The City We Became at Amazon, Apple, Barnes&Noble, Kobo and other bookstores.
The author
N.K. Jemisin is a New York Times-bestselling author of speculative fiction short stories and novels, who lives and writes in Brooklyn, NY. In 2018, she became the first author to win three Best Novel Hugos in a row for her Broken Earth trilogy. She has also won a Nebula Award, two Locus Awards, and a number of other honors.
Check out her website, Twitter and Goodreads profile.
Featured image by JuliusH.