Six months after she left Earth, Dee is struggling to manage her rage toward the people who ordered the nuclear strike that destroyed the world. She's trying to find those responsible, and to understand why the ship is keeping everyone divided into small groups, but she's not getting very far alone.

A dedicated gamer, she throws herself into mersives to escape and is approached by a designer who asks her to play test his new game. It isn't like any game she's played before. Then a character she kills in the climax of the game turns out to bear a striking resemblance to a man who dies suddenly in the real world at exactly the same time. A man she discovers was one of those responsible for the death of millions on Earth.

Disturbed, but thinking it must be a coincidence, Dee pulls back from gaming and continues the hunt for information. But when she finds out the true plans for the future colony, she realises that to save what is left of humanity, she may have to risk losing her own.
The image below includes alt-text.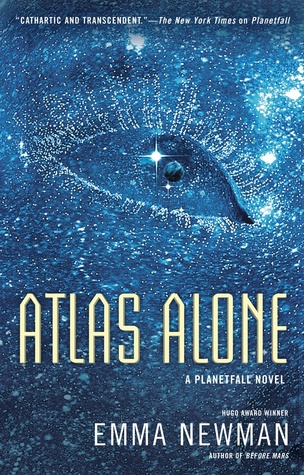 Like all the books from the 'Planetfall' series, this one can be read as a standalone, but the events pick up right where 'After Atlas' ended, and some of the characters are the same, so it might make sense to read it first.
Characters
Dee is the protagonist. She's an asexual and probably aromantic woman who also, like all the protagonists in this series, has some mental health issues. In her case, it's PTSD and distrust to everyone around inflicted on her by losing her parents early to the riots, becoming a non-person and being conditioned by the hothousers who subsequently sold her into corporate slavery. Because of her conditioning and having experienced a lot of traumatic events, she doesn't allow herself to form connections with people. Instead, she analyzes them and calculates what her approach should be to get what she wants. The glimpse into her mind was fascinating and a bit chilling. There are also Travis and Carl from 'After Atlas' who play secondary roles in this book, a few other passengers of the spaceship and a mysterious game designer / hacker who plays weird and cruel mind games with Dee. If you've read other Emma Newman's books, you already know that every character is fleshed out and realistic.
World-building
Everything happens on a spaceship, but a huge chunk of the story plays out within games or virtual spaces. Some of it deals with early twenty first century London where Dee lived as a kid, which is still near future for contemporary readers. Emma Newman does a great job with the world-building in all those settings, as always.
Plot
The plot is straightforward and captivating. As always with the 'Planetfall' series, it has a mix of a psychological thriller and a mystery and relies heavily on the protagonist's subjective understanding of reality.
Impressions
I enjoyed this book as much as all the other books in the series. It has all the ingredients I've come to associate with Emma Newman's writing: the psychological depth, the mystery that slowly unravels throughout the story, the flaws of the main character in the spotlight. What's unique about this story, is that a large part of it is LitRPG. Gaming and virtual spaces have played important or secondary roles in each 'Planetfall' book, but this time they are the centerpiece of the story. A lot of crucial events happen within immersive games; games are also used by the unknown hacker to make Dee face her past traumas, which is quite creepy and ventures into the horror territory a bit.
The book poses a lot of questions about inequality, corporate power, religious fanaticism, trauma, AI, the understanding or right and wrong, justice. It kept me on the edge of my seat the whole time. I guessed the identity of the hacker before it was revealed, but it was a captivating and very morally ambiguous part of the plot anyway, which I enjoyed a lot.
In conclusion, Emma Newman is one of my favorite contemporary sci-fi authors, and I'll be on the lookout for her new books.
You might enjoy the book if you like LitRPG, gaming, mysteries, psychological thrillers, spaceships and other Emma Newman's books.
You can get the book at Barnes&Noble, Amazon, Apple, Kobo, Google Play and other book shops.
The author
Emma Newman writes short stories, novels and novellas in multiple speculative fiction genres. Her Planetfall series was nominated for the Best Series Hugo Award 2020 and individual books in that series have been shortlisted for multiple awards. She is a professional audiobook narrator, and won the Alfie and Hugo Best Fancast Awards for her podcast Tea and Jeopardy. Emma is a keen role-player, gamer, painter and designer-dressmaker.
Check out her website, Twitter, Instagram, YouTube channel and Goodreads page.